RE: How to enable a SSL certificate?
This is how I updated the keystore.jks to run with letsencrypt!!
Register with any free dyndns provider (e.g. http://www.dnshome.de )
Enter the access data in your router
The next step is a little bit tricky .. here is what I did
install apache2
enable port forwarding for port 80 in your router
The relevant certificate files are located here after running autocert:
/etc/letsencrypt/live/YOURDOMAIN
Then check this out (https://blog.codecentric.de/2013/01/selbstsignierte-zertifikate-aus-pem-dateien-in-java/)
openssl pkcs12 -export -out keystore.p12 -inkey privkey.pem -in cert.pem
keytool -importkeystore -destkeystore keystore.jks -srcstoretype PKCS12 -srckeystore keystore.p12
cp keystore.jks /home/pi/mycontroller/conf
Edit mycontroller.properties:
mcc.web.ssl.keystore.file=../conf/keystore.jks
mcc.web.ssl.keystore.password=mycontroller
mcc.web.ssl.keystore.type=JKS
mycontroller must be replaced by the passwort you choose during certificate export with openssl
You can now disable port forwarding for port 80 and enable port forwarding for port 8443 (be sure to choose a strong passwort)
Result: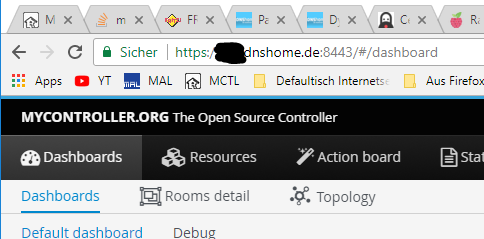 !!! Valid certificate in all major browsers (chrome in my example) !!!
posted in Troubleshooting